This is my favorite image that I've taken, it had a surprise waiting for me once I was done post-processing it.
I saw this storefront in the ghost town of St. Elmo which, even though closed for many decades, had stuff piled on the counters and tables inside now covered in dust and spider webs. So curious, I could only imagine the story behind this scene, what series of events caused the place to shut down yet not take everything with them. Was it a slow death of the ghost town and they couldn't be bothered to pack what was unessential, or an emergency of some sort causing them to leave everything in a sudden panic?
I was preoccupied with capturing the store front itself and the stacks of dust covered items inside as well. A perfect opportunity for HDR photography to shine. I chose the angle and distance, set up my camera on it's tripod, and took a series of pictures. Once I got home, dumped the pictures on my computer and started post processing them I kept looking in the window trying to figure out what I was seeing. It took quite a while before I saw the reflection of the snow covered field, forest, and mountain behind me as I took the pictures and they flowed perfectly from the items inside the store into the snow scene and up the window.
There is so much going on in this image that the longer I sat starring at it, the more I saw. When I find myself looking at an image for long periods of time I know it's a good one and I was thrilled with the result of this old ghost town building. I still find myself starring at this image and wondering about the story behind it.
A 12" X 18" giclee open edition print.
This museum quality giclee print will be printed on satin luster paper with a one inch border on each side ready for you to frame and display. The high quality 11 mil 300g paper is a cross between a gloss and matte finish giving excellent ink retention characteristics and a color gamut second to none. This paper also maintains a traditional E surface finish, providing and elegant texture consistent to that of a traditional dark room print. ($100.00)
100 aluminum prints are available for this image.
The aluminum print is 16 X 24 inches and will ship ready to hang on it's own float mount frame. Printed on white aluminum ultra gloss it is not only extremely durable and fade resistant but the depth of the image and almost 3D quality of the print will catch anyone's eye who happens to see it. Go ahead—try not to stare!
Closed For Business aluminum print—Coming soon!
Closed For Business canvas limited print run of 400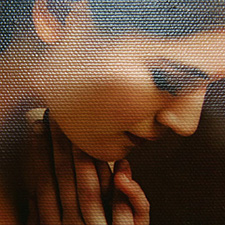 A 12 X 18 inch print on canvas with a glossy laminate wrapped around and mounted to a thin but sturdy gatorboard. The pigment ink, canvas, and gator board are all archival quality to make sure your print looks as good 100 years from now as it was the day you received it.
From the example on the left you can see the canvas has the textured quality of fine art and the glossy laminate provides excellent protection from dirt and UV light and gives the image depth.
The thin wrap canvas also comes provided with a mount block already attached to the back.
From behind you can see the mount block which makes your print ready to hang when you receive it and gives it the appearance of floating off the wall creating a more modern display.
Closed For business canvas print—Coming soon!