It's mid November, the mule deer rut is in full swing, the middle of the day, oh yea—it's snowing! I watched as one of nature's most beautiful dances took place that's been going on for millenniums.
This mature buck tended to his herd while upstarts like the forked horn in the back of the image tried to rob him of a doe here and there. There were several other bucks and they kept him on his toes the entire time, he never got a break. He wasn't the largest buck here but he was by far the most dominate.
I photographed this scene for about two hours and took many pictures. I was told, "too bad you didn't get a picture of that big buck looking at the camera," but I did. Because of the story this image tells I fell in love with it much more than any others I captured that day.
The scene is tense, for those familiar with deer you can easily see that each one are on full alert by their posture and stance. That big boy is mad and at any moment he's gonna charge that forked horn and send him running into the next county. The small fork, on the other hand, is hilarious. He knows he is caught with his hand in the cookie jar and is doing everything in his power to blend into the background. Looking the other way, standing absolutely still, he knows he is no match for that monster buck and is saying, "I'm not even here, just us trees!" Meanwhile, the doe watches on, perhaps just happy to be getting all this attention.
And that's where the title of the image comes in—a grumpy old man trying to run off the young intruders by shouting, "Get Off My Lawn!"
The 24 X 36 inch giclee paper print.
This museum quality giclee print will be printed on satin luster paper with a one inch border on each side ready for you to frame and display. The high quality 11 mil 300g paper is a cross between a gloss and matte finish giving excellent ink retention characteristics and a color gamut second to none. This paper also maintains a traditional E surface finish, providing and elegant texture consistent to that of a traditional dark room print.
Only 30 Aluminum prints will be made available
This aluminum print is huge—a large 32 X 48 inch. It will have a recessed frame to give it that great "floating off the wall" effect. This is truly meant to be the centerpiece of a large room.
Because of it's large size this print will need to be shipped in a wooden crate for protection. Here you can see a different, panoramic print being unboxed after shipping.
Get Off My Lawn aluminum print—Coming soon!
Only 200 canvas wraps will be sold.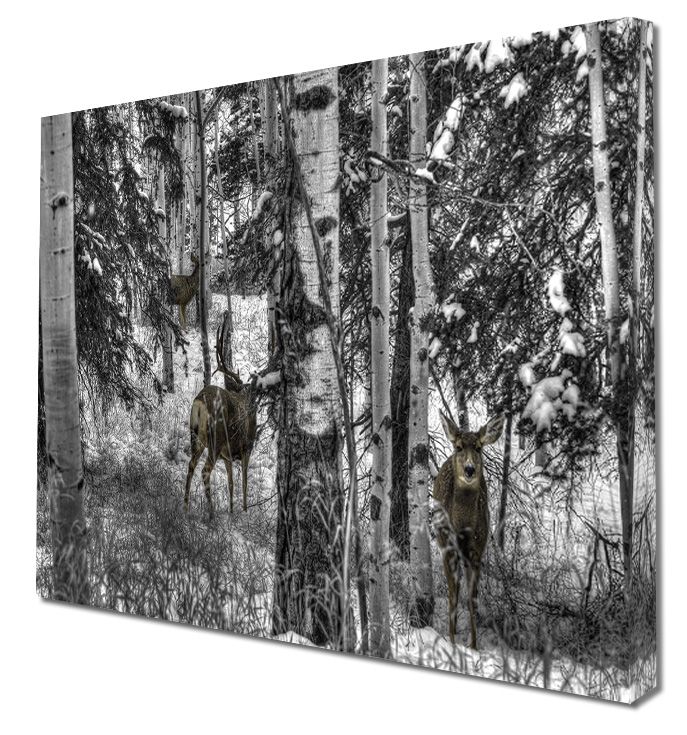 I chose to wrap this canvas image because I think the trees and snow make for a natural but striking 1.5 inch border on each side, causing the print to really stand out.
At 30 X 45 inches the canvas print is slightly smaller than the aluminum print but still very large. Fine art giclee canvas gallery wraps are printed directly onto museum quality canvas material using high quality archival inks. The canvas print is then wrapped around a stretcher frame so that the photo's edges are visible on the sides of the frame. A lustre laminate is applied to the surface of the print to provide UV light protection.
Get Off My Lawn canvas wrap—Coming soon!